Widely Developing Scientific Development Co.
Room 2104, 21/F, Carnival Commercial Building, 18 Java Road, North Point, Hong Kong
Tel : (852) 25707811 Fax¡G(852) 25709522
Email: cflau@widely.com.hk
Web site: http://www.widely.com.hk
---
As the advanced technology brings down the price of P.C. and I.T. equipment rapidly in the recent years, the running of business can obtain the benefits from the reduction of price, even for a small business company. Our company, running at this aim, provides the following services to customers:
WEB SITE BUILDING PRICE
Special Price for North Point Customers :
Hong Kong Domain Name Annual Fee
(i.e. www.abc.com.hk / www.abc.hk)
¡@
$200 / $250
Web Hosting Fee / Month (300M)

Web Hosting Fee / Month (300M)

$68

$98

Web Design


Home Page

Second Page

Third Page or more

(Low price for large volume)

¡@

$500 - $800

$300 - $450

$200 - $350

¡@
¡@


Does my company need a Website?


¡@
1. Enquiry Services about P.C. and I.T. applications (For Business purpose only- Free of charge).
¡@
2. Web Design (Tailor-made for the need of your business).
For samples, please refer to the above web pages of corresponding websites.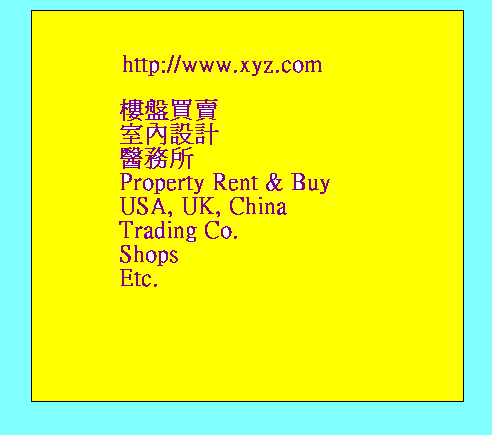 ¡@
3. P.C. Courses: Word, Excel, PowerPoint, and Chinese Input Methods (Chonji and Easy Method) ¡V teaching in the individual need method.
4. Software Programming Design.
5. Design of Networking and its Supply.
¡@
Please Contact: Mr. William, C.F. LAU Tel: 25707811
Email: cflau@widely.com.hk
¡@
¡@